Helmet + Mask = The New Headgear
By now it's pretty commonplace around Cambridge, Mass., to see people wearing protective headgear and masks on bicycles, scooters, mopeds, and even motorcycles. I'm grateful for their effort and commitment to helping stanch the Corona spread. But the masks—a constant reminder of the state of the world today–are still too recent and I do a double take every time I see someone with a helmet and face covering. Here's a collection of images from my wanderings around Mass Ave.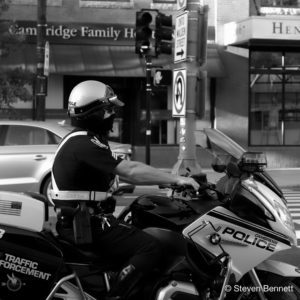 Copyright © 2020 Steve Bennett
Steve Bennett is a Cambridge, Massachusetts-based visual artist. He began taking photographs more than 40 years ago, in the age of film, and transitioned to digital photography in the late 90s. Today, in addition to taking and making traditional street, macro, and landscape photographs, he creates photo-based abstract composites designed to take viewers on fanciful flights of the imagination through virtual realms. His work has been displayed in numerous juried exhibitions, and at Google's Kendall Square, Cambridge offices as well as various technology, biotech, and financial service companies in the Boston area.